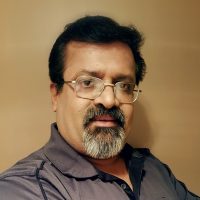 Wilson Thomas
Coordinator
I was born in Changanacherry, Kottayam district in Kerala in India, as the third member, one in twins, of Chackala family. My parish in Kerala is St. Mary's Metropolitan Cathedral Church, Changanacherry. I was actively involved in all Church activities and mainly as a choir musician in three parishes (St. Thomas and St. Joseph), including St. Mary's Metropolitan Cathedral Church.
I have completed my secondary education from St. Benchman's college, Changanacherry, and then moved to Bangalore for higher computer studies. I worked in many places in India until I moved to Singapore in 1994. I got married to Princy (Vadana) in 1996 and I have 3 kids.
In Singapore, I was very actively involved in Malayalam Church and Jesus Youth activities, and took part in initiating many prayer groups all over Singapore. I was active in leading the prayer group and music ministry for Church and Jesus Youth. I took part actively in conducting many retreats and helping many preachers in supporting the praise and worship and music ministry.
I have then moved to Melbourne, Australia, in 2003. Since I moved in, I joined hands with our Chaplin Fr. John Aravanakara and started involving in forming music ministry and conducting the yearly retreats. I was actively involved in supporting the formation of Syro-Malabar Church in Melbourne from the initial stage till its formation.
I also took initiative in starting the Jesus youth (JY) for the first time in Australia with the support of Fr. John Aravankara, Manoj Sunny (JY International Team) and Rajesh Thalappillil (JY National Team).
I then moved to Canberra in 2007. Working together with Fr. Francis Kolencherry and Fr. Varghese Vavolil, jointly we have initiated many activities like Music Ministry, Prayer Groups, Catechism, Syro-Malabar Youth Movement (SMYM), and so on in Canberra.
For many years, I have been travelling all over Australia for Sharing the word of God, Praise and Worship, Music Ministry, and Supporting many internal and visiting retreat teams all over Australia.
Currently, with the blessings and support of our parish priest Fr. Mathew Kunnappillil, the roles I am holding in our Church are Extraordinary Holy Communion Minister, Animator of Syro-Malabar Youth Movement (SMYM) and Catechism teacher. I am also taking classes in Pre-Marriage preparation course (Family & issues, Finance, Communication and Third Millennium Families) since its beginning. I am working closely with Fr George Mankuzhikary, Director of Family Apostolate, in helping the families with issues.
I am a team member of Shalom World Canberra, in promoting the channel, and helping the Shalom World head office in Canberra.
Recently, Syro-Malabar Church has appointed me as the coordinator of the Evangelisation in our Diocese.