We the faith-filled descendents St. Thomas the Apostle, and the members of the Syro-Malabar hierarchy nourished by the rich traits of one of the ancient cultures, thrive to impart our faith and culture to the whole world and especially to our descendents. Through worship, motivation, support and education we foster spiritual growth, Syro-Malabar traditions and values. With open hearts and helping hands we respond to the needs of our community and the world.
OUR VISION
Our Vision is to create a vibrant Syro-Malabar community that nurtures spiritual growth, celebrates the sacraments, and fosters community fellowship and leadership.
OUR MISSION
Our mission is to grow as a parish that serves the spiritual needs of the Syro-Malabar community in Adelaide and to become an exemplary community of faith that promotes spiritual growth, the sacraments, community service and outreach, social justice and faith-seeking understanding. We aim at knowing more of the customs, traditions and the rich heritage of our church by means of understanding and celebrating the liturgy. Our aim is to understand, acknowledge and love our Syro-Malabar identity and bring up our children in that great faith, handed over to us by our heavenly Patron, St. Thomas the Apostle. We look forward to active involvement in the diocesan, parish and family-fellowship activities. We are proud of being members of the Syro-Malabar Church and re-dedicate our lives to understand the history of our Church so that we may grow in appreciation for our mother church. Our invitation and challenge is to pass this faith experience to the generations to come, so that we may continue building up the kingdom of God in the modern world.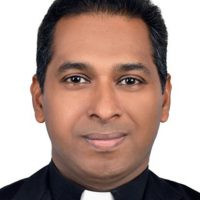 Mass Times
Mon to Fri – 5.30 pm Adoration and 6 pm Holy Mass
Sat – 8am Adoration and 8.30 am Holy Mass
Sun – 3 pm Catechisam and 4.30 pm Holy Mass
Diocesan Pastoral Council Members:
Mr. Jiyo Jose