Brisbane witnessed many Malayalee families migrating from India and various other parts of the world soon after the millennium. In 2004, a few Malayalee Catholic families under the leadership of Fr. Thomas Areekuzhy M.C.B.S. began Malayalam masses in St Ignatius Church Toowong regularly. Fr. Areekuzhy travelled all the way from Toowoomba to nurture and nourish the faith of people through monthly mass, prayer meetings, house visits etc. The year 2007 saw a high rate of migration of Malayalee Catholics to Queensland. Most of the migrants were health professionals and students. The migrants began to settle in different suburbs of Brisbane. The increase in numbers, geographical conditions, and the distance they needed to travel for their pastoral requirements demanded Syro Malabar Catholics to establish two main pastoral areas – Brisbane North and Brisbane South.
In 2009, the appointment of Fr. Antony Vadakara as assistant parish priest of Mary Immaculate Church Annerley gave a sense of identity to the Syro-Malabar faithful on southern suburbs of Brisbane. The Brisbane South community had the privilege to celebrate their first Good Friday service in 2009 at Mary Immaculate Church, Annerley and the first Easter service in 2010 at St. John Fisher church Tarragindi by the visiting priest Fr. Joseph Thottankara MCBS. In South Brisbane catechism classes were started at the private residence of one of our members. As the community had grown, the number of children attending the catechism class also increased. This forced the community to think about moving the catechism class to church premises.
Currently St Thomas, the Apostle Syro Malabar parish has around 300 Syro-Malabar families residing in and around Brisbane South which is a solid congregation of about 1000 members i.e. around 600 adult members and over 400 young children and teens. There are more than 250 registered children and 15 teachers currently in our Sunday school. Within our community we have an active unit of Mathrujyothis, Vincent De Paul and Parish Youth. In order to facilitate the education of our mother tongue, the parish organises Malayalam classes on every Sunday. We also celebrate the Feast of our patron saint, St Thomas the Apostle on the first Sunday in July every year with great devotion and piety.
Fr Peter Kavumpuram has taken charge as Chaplain for the community in July 2014 and the community has become a parish in 2015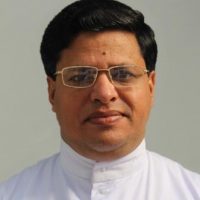 Vicar: Fr Abraham Nadukunnel
Email: anadukunnel@gmail.com
PH: 0469 736 317
Mass Times
Friday: 6.30 pm : Adoration
7.15 Pm: Holy Mass
Sunday : 9.15 am: Holy Mass
10.30 am : Catechism
Diocesan Pastoral Council Members:
Dr Linson