St Alphonsa Mission of the Syro-Malabar Eparchy of Melbourne strives to live as a faithful Catholic
community in Parramatta, Blacktown and in the other regions of greater Sydney and beyond. It has
currently 14 family units and more than 600 Sunday attendance.
This Mission continues to grow in the footsteps of St Thomas the Apostle by celebrating the Syro-
Malabar Liturgy in its Synodal form contributing towards the beauty of Catholic traditions.
In the St Michaels' School, near its Mass Centre, St Michaels Church, the community runs its
Catechism Classes every Sunday, attended by more than 350 students and 20 volunteer teachers.
The Community is privileged to have daily Holy Qurbana (Holy Mass) in the evenings and two Solemn
Holy Qurbanas on Sundays at 58 Orwell St Blacktown.
The Community consists of migrated professionals of Syrian Catholic families from different
traditions hailing mostly from Kerala and different parts of India. The Community had its presence in
greater Sydney since 2009 with once in a month Holy Qurbana assisted by priests of Syro-Malabar
origin. Currently, St Alphonsa Mission is one of the most vibrant communities of the Eparchy of St
Thomas the Apostle, Melbourne.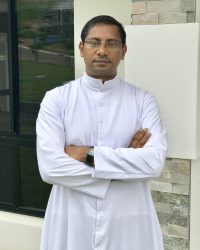 Fr Mathew Areeplackal
Email: mathewareeplackal007@gmail.com
Ph:0469 083 734
Holy Qurbana Times
SUNDAY Holy Qurbana
12:30 pm (St. Michael's Church 58 Orwell St, Blacktown)
02.10 pm -03.30 pm Catechism Classes
03.40 pm (St. Michael's Church 58 Orwell St, Blacktown)
WEEKDAY LITURGIES
Mon, Tue, Wed, Thu, Fri – 06.15 pm Adoration & Rosary; 7.00 pm Holy Qurbana
Sat – 8.00 am Adoration & Rosary, 8.30 am Novena & Holy Qurbana
Wednesday @ ST PATRICK Church 51-59 Allawah St, Blacktown, 2148,
All other days: @ St MICHAEL'S Church 58 Orwell St, Blacktown, 2148, NSW
RECONCILIATION
Monday – Friday 6:15 pm – 6. 45 pm
Saturday 8:00am – 8:30 am
BAPTISM
Saturdays @ 8.30 am
Diocesan Pastoral Council Members:
1. Saju Olickara (Elected Member)
2.Johneykkutty Thomas (AKCC)
3.Sheril Jose Sao (SMYM)
4.Presy Tom (Catechism)