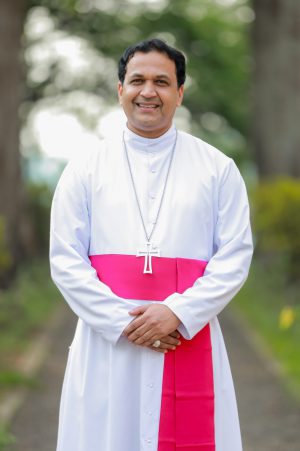 Bishop John Panamthottathil
Bishop John Panamthottathil CMI was born on May 31, 1966, in the Parish of Peravoor in the Archeparchy of Tellicherry, Kerala, India.
After completing his school education, Bishop John joined the St. Thomas Kozhikode Province of the CMI as an aspirant at Koodathai. He then went on to complete his Novitiate at Marikkunnu and pursued his studies in Philosophy and Theology at Dharamaram College. As part of his training, he served as a regent in Fathima Hospital, Kalpetta.
Bishop John Panamthottathil made his First Profession in the CMI order in 1986 and later made his Solemn Profession in 1994, which signified his lifelong commitment to the religious order. On December 26, 1997, he was ordained as a priest.
In his pastoral ministry, Bishop John held various positions. He served as an assistant parish priest at Koodaranji Parish in the Eparchy of Thamarassery. He was elected twice as the Provincial Superior of the CMI Kozhikode Province, showing his leadership within the religious order.
Bishop John also gained extensive pastoral experience overseas. He served in the Latin diocese of Nashville, USA, for a short period. Afterwards, he moved to Australia to offer his services in the Archdiocese of Brisbane. During his time in Australia, he served as an assistant parish priest at St. Stephen Cathedral in Brisbane and St. Bernadine Church in Regents Park, Queensland. He also served as the parish priest at Our Lady & St. Dympna's Church in Aspley, Queensland. Despite ministering in the Latin Church, he actively supported the pastoral needs of the neighboring Syro-Malabar communities.
In 2020, Bishop John returned to India and served as the prior of St. Elias Ashram in Niravilpuzha and as the Parish Priest of St. Elias Parish in the Eparchy of Mananthavady. Additionally, he taught the English language at the Benedictine Ashram Makkiad in Kerala.
On January 2023, Pope Francis appointed Bishop John as the second bishop of the Syro-Malabar Eparchy at Thomas the Apostle in Melbourne. On May 31, 2023, he was ordained as bishop and installed as the bishop of the eparchy by His Beatitude Cardinal George Alencherry.
Contact:
email: office@syromalabar.org.au