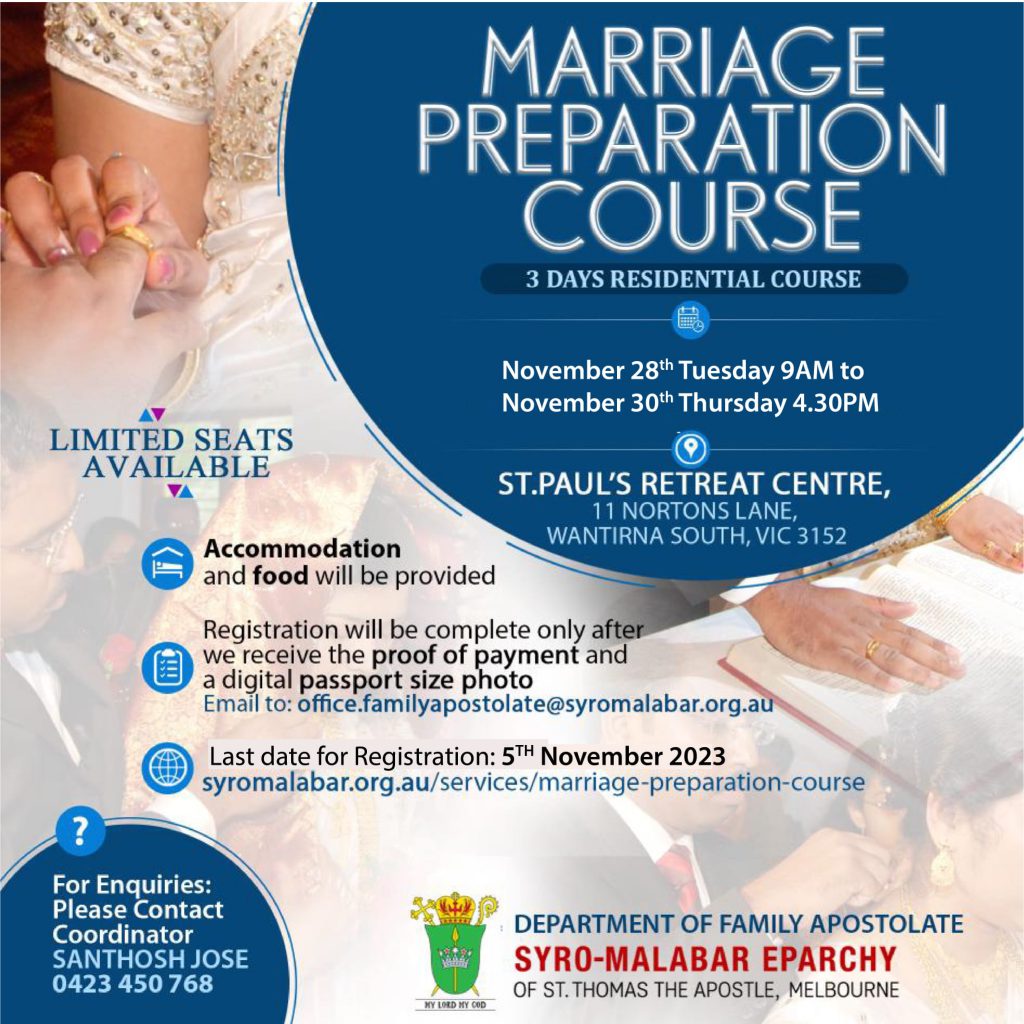 MPC Registration for November 2023

The Family Apostolate Department is organising the next residential 3 days Marriage Preparation Course (MPC) on November 28, 29 and 30 (Tuesday to Thursday).
IMPORTANT INFORMATION FOR PARTICIPANTS:
Venue details: St Pauls retreat Centre, 11 Nortons Lane, Wantirna South, VIC 3152
Registration at the venue: Tuesday 28th November 2023, 9am to 9.45am
Course will finish at 4.30pm on Thursday, 30th November 2023
Participants MUST arrive at the venue before 9.45 am on Tuesday, 28th November 2023 for 10.00am start.
Participants must attend all the sessions in FULL on all 3 days to get the course completion certificate.
The course certificate is valid for a period of 2 years.
There will be a pre course questionnaire to be completed and a course evaluation form to be
completed (mandatory) at the end of the course.
Twin share accommodation and food will be provided.
Participants must stay at the venue until the end of the course.
Some of the sessions will be via Zoom.
Registration details:
Register your details online ASAP.
Limited seats only available.
Last date for registration : 5th November 2023
**We may close the registration once the seats are full.
*Please transfer registration fees A$400.00 to the following, Account Name: The Syro Malabar
Eparchy of Family Apostolate
BSB: 083 347; Account number: 232 865 310.
Those who would like to participate may complete the online application form and make full payment (with Ref: MPC your name).
Registration will be complete only after we receive your digital passport size colour photo and proof of payment.
Email to : office.familyapostolate@syromalabar.org.au
Cancellation and Refund Terms and Conditions:
Registration Cancellation by Participant:
All cancellations of MPC registrations must be made in writing to via email
to office.familyapostolate@syromalabar.org.au for processing.
Cancellations prior to 31st October 2023 11:59 pm will incur an administration fee of $50 for each registrant. Remaining amount will be refunded to your bank account within 30 days of notification.
Cancellations received after the stated deadline of 31st October 2023 11:59 pm will not be eligible for a refund.
Refunds will not be available for registrants who choose not to attend the course.
Cancellation requests will be accepted via email and must be received by the stated cancellation deadline.
All refund requests must be made by the attendee via email with their bank account details.
MPC Course cancellation by Dept of family Apostolate:
Dept of family Apostolate reserves the right to cancel a course due to low enrolment or other
circumstances which would make the event non-viable.
If Dept of family Apostolate cancels an event, registrants will be offered a full refund.
Should circumstances arise that result in the postponement of a course, registrants will have the option to either receive a full refund or transfer registration to the same event at the new, future date.
Upcoming MPC residential course in 2024; February 27th to 29th (Tuesday to Thursday)
For any enquiries please contact:
Santhosh Jose, Mob: 0423 450 768
or email to : office.familyapostolate@syromalabar.org.au
Coordinator, Department of Family Apostolate
The registration for the upcoming Feb 2024 three days residential Marriage Preparation Course will be open by 20th Dec 2023.