On July 3rd, 2009 The first Syro-Malabar Mass for the Syro-Malabar community in Townsville region was celebrated at St Catherine's Church, Proserpine by Fr.Jose Koyickal.
The frequency of Qurbana and the number of faithful attending increased over the years. Townsville and the adjoining regions such as Burdekin, Bowen and Ingham saw a steady increase in Syro-Malabar faithfuls mainly due to the migration of a large number of Nurses & skilled Professionals from all parts of the world.
The Syro-Malabar faithfuls in Townsville are very much indebted to the services of Bishop Michael E Putney and the Syro-Malabar Priests working for the Diocese of Townsville, especially Fr Jose KOYICKAL CM,
Fr John KUNNATHUMADAPPILLIL OCD,
Fr Thomas PULICKAL OCD,
Fr Abraham CHERIPURAM,
Fr Sibichan KAIPPANPLACHAL and
Fr Joshy JOHN OCD.
Fr Mathew AREEPLACKAL was appointed as the first resident Chaplain to the St Alphonsa Syro-Malabar Mission Townsville in March 2018.
On October 4th, 2018 St.Alphonsa Syro-Malabar Mission was raised to the status of a Parish by Bishop Mar Bosco Puthur. Fr Mathew AREEPLACKAL is the first Parish Priest for St Alphonsa Syro-Malabar Parish Townsville.
The Syro-Malabar Community in Townsville is blessed with Holy Mass in Malayalam every day at Mary Mackillop Church, Mundingburra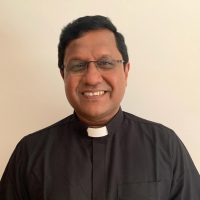 Fr Joseph Ezhumayil
Email: office.townsville@syromalabar.org.au
Mob: 0473 026 233
Mass Times
Mary Mackillop Church on Ross River Road
Monday-6.30pm.
Tuesday-6.30pm
Adoration and Confession at 6.00pm.
Intercessory prayers at 5.00pm.
Wednesday-9.00am.
Thursday-9.00am.
Friday -6.30pm
Holy Mass and Adoration.
Confession-6.00pm
Saturday-9.00am.
Sunday Holy Mass
Sunday- 5.30pm
Except 3rd Sunday of every month.
3rd sunday- 10.15am.
Diocesan Pastoral Council Members:
Jobichan Uppupurath