St. Mary's Knanaya Catholic Mission Melbourne is established on 24th July 2013 by the Melbourne Arch-Bishop Mar Denis J. Hart exclusively for the Knanaya Catholics in Melbourne in link with the Kottayam Arch-diocese and appointing Fr. Stephen Kandarapally as its first Chaplain. And the mission was officially inaugurated on 3rd November 2013 by His Grace Denis J. Hart in the presence of Bishop Mar James Thoppil. This Knanaya catholic Mission later acknowledged by Mar Bosco Puthur of the St.Thomas Syromalabar Epharchy of Melbourne and officially announced and inaugurated by the Archbishop of Kottayam Mar Mathew Moolakkattu on 4th October 2015.
St. Mary's Knanaya Catholic Mission conducted its first Pothuyogam on August 31st at St. Peter's church, Clayton and selected following people as its first Parish council. Fr. Thomas Kumbuckal, Solomon Palakat, Stephen Ockattu, Siju Vadakkekkara, Reji Parackan, Gigimon Kuzhivelil, Sijo John, Lissy Josemon,Gijo Marikaveettil, Baiju Joseph, Siby Vayalumkal, Baby Karisserickal, Joseph Varickamanthottiyil, Teesa Sajan, Saji illiparampil, Sonia Pathuparayil and Joel Joseph.
St. Mary's Knanaya Catholic Mission commits to serve the pastoral needs of the Knanaya Catholics in the state of Victoria,in communion with the Syro-Malabar Eparchy of St. Thomas Melbourne and the Archeparchy of Kottayam, especially by providing liturgical services in the Syro-Malabar, offering Religious Education and spiritual formation, organizing pious associations for young and adults, Ministries for all ages, koodarayogams (prayer gathering) to help people to grow spiritually, promoting Knanaya traditions, and developing a spirit of Christian love.
The Mission is also organizing every Sunday Holy Masses and Catechism classes in two centres for the spiritual need of the community.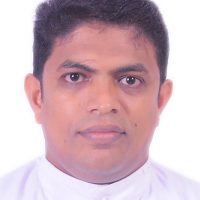 Fr. Abilash Kannampadam
Email: abikthomas@gmail.com
PH: 0484 239 168
Mass Times
St. Peter's Church
258 Clayton Road, Clayton
Sunday: Holy Mass: 4.30 pm
St. Mathew's Church
95 William Street, Fawkner North.
Sunday: Holy Mass: 4.30 pm
Diocesan Pastoral Council Members:
Joe Muriyanmyalil