Residential Retreat 2019
5 days residential retreat in Malayalam
The Syro Malabar Eparchy of St Thomas the Apostle organising a 5 days residential retreat lead by Rev. Fr.Xavier Khan Vattayil the founder-director of Sehion Ministries, of Palakkad Diocese. The retreat will help you to encounter Jesus so personally and deeply and receive the GRACE in its abundance.
As Mark 16:20 says,"And they went forth and preached everywhere, while the Lord worked with them and confirmed the word through accompanying signs." As and when the word of God is preached, God showers abundant miracles and signs realizing His promises and revealing the very presence of resurrected Lord Jesus Christ. When the streams of God's grace are opened, your hearts are drenched with Holy Spirit-a grace anointing experience!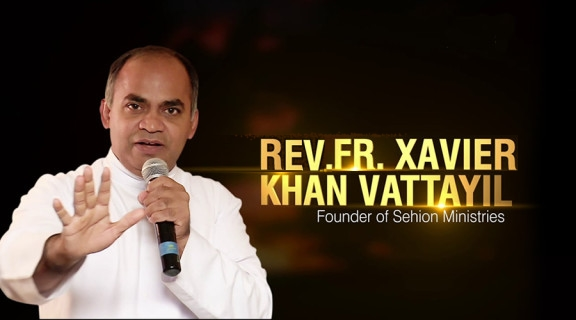 Praise the Lord,
Dear participants,
This is to advise you that Fr Dominic Valamanal, Director, Marian Retreat Centre Anakkara, has informed the Syro-Malabar Eparchy, Melbourne, that he has cancelled his visit and retreat program in Australia. Therefore, the residential retreat at Philip Island, VIC scheduled for 22-26 September would be now conducted by Rev. Fr Xavier Khan Vattayil during the same days and at the same location. Hope you understand this situation. if you have any concerns, you may please write to the retreat team email (retreats@syromalabar.org.au) at the earliest. Your cooperation would be highly appreciated. Please continue to pray for the retreat and everyone involved.
If you need
* to connect and reconnect with God
* to experience love and peace
* to receive healing and deliverance
* to receive gifts of the Holy Spirit
* to know God's plan
* to take the right direction for your life
* to restore your life, health and family
* to start a new beginning in your life
* to have a good confession and right conversion
Come to RESIDENTIAL RETREAT 2019.
When:
2019, September 22nd (Sunday) to September 26th (Thursday).
The retreat will begin on Sunday 2.30pm and finishes on Thursday 10.30am. Full attendance is a must to be part take in this residential retreat.
Where:
Philip Island Adventure Resort, 1801 Philip island road, Cowes, VIC 3922
The venue is situated on 80 acres of landscaped grounds in the heart of Philip Island. Please visit their website for more details about the venue: www.piar.cyc.org.au
Participants:
The retreat is open for singles, couples and as well as families. There will be separate sessions for children/ teens (fourteen years and below). If you wish to attend with your family please contact the team before you proceed to register.
Registration:
Category 1
Adults 18 years & above – $445
Category 2
Children 14 to 17 years of age – $395
Category 3.
Children 3 to 14 years of age – $345
Category 4
Children 0 to 3 years of age – Free (Children under 3 years will attend free and there will not be any separate bedding provided for them)
The registration fee includes 5 days of accommodation and food. You can pay the registration either through credit/ debit card in the registration portal.
REGISTER NOW
Accommodation & Food:
Accommodation and food will be provided by the venue. Accommodation will be in a shared accommodation. Bigger families will be considered for a family accommodation and it will be subject to availability. If you have any dietary requirements, please note down that in the registration form. Parents with infants need to bring the food for their babies during the retreat and those who are on medication please brought it along with you. If you have any health issues or concerns, please let the organising team know.
Transportation:
The venue is situated 160km away from the Melbourne, Tullamarine Airport. If you are travelling from interstate and needs transportation to and from the venue it can be organised with an extra cost. Please contact the team for more details.
For more Details: Email: retreats@syromalabar.org.au
Call:
1. QLD – Ancy Jomon – 0470 647 527
2. VIC – Benny Sebastian – 0426 257 153
3. WA – Soudhamini Sajeev – 0401 822 358
4. VIC – Santhosh Jose – 0423 450 768
5. NSW – Tomy Kurisunkal – 0432 498 425
6. ACT – Wilson Chackala – 0422 273 855
Due to high volume of participants the registration is currently closed. Please put your name down in the waiting list and you will be contacted if there is any cancellation occurs. The retreat team is working on to make more seats available for the retreat. You will be contacted soon and the waiting list will be treated as first come first serve basis.
Click Below Button to Register Online into Waiting List: