John Paul II Minor Seminary of the Eparchy of St Thomas, Melbourne
Since the inauguration of the Eparchy of St Thomas, Melbourne in 2014, a major goal was to provide priests for pastoral care across communities in Australia.
After long and prayerful discernment and in consultation with various bodies, Bishop Bosco Puthur decided to start a minor seminary in Kerala to help achieve that goal. We found a suitable place for the seminary at Pazhayannur, in Thrissur, Kerala, where the Malabar Missionary Brothers graciously consented to give us a lease on their house for our purposes. Rev. Dr. Lawrence Thaikattil, from the Archdiocese of Thrissur, was appointed as the Rector of the Seminary. The minor seminary started functioning on 18 June 2016. Its formal inauguration was on 20 August 2016.
Due to the inconvenience of the location at Pazhayannur, the seminary was shifted to Thirumudikunnu, Koraty, Kerala on 30 November 2016, to a building belonging to the Sisters of Sacred Science. There are three second-year minor seminarians who are doing year 11, and six first year minor seminarians.
From the very beginning of the Eparchy, there was the process of recruiting candidates for priesthood from Kerala for the Eparchy. Currently 18 Seminarians in various levels are now undergoing formation in different seminaries in Kerala.
The St. John Paul II Minor Seminary is the house of formation for the students who are aspiring in their journey to priesthood, to be shepherds. At the Minor Seminary, the candidates are given initial spiritual Orientation and Formation to enable them to discern God's plan in their lives, and to prepare them to minister in the Australian Syro Malabar Church.
Rev. Fr. Paul Peramangalth Rev. Dr. Shiju Chittilappilly; Rev. Dr. Bilju Vazhappilly; Rev. Fr. Johnson Kundukulam, Rev. Fr. Baiju Kannampilly; Rev.Fr. Saji Parekattil; V. Rev. Msgr. Franics Duffy; Rev. Fr. George Cheruvathur & Mrs. Elsy Jose are the faculty members of the seminary with different capacities as lecturers, spiritual fathers, accountants and councillors.
Address
St. John Paul II Minor Seminary
Thirumudikunnu
Koratty East
Thrissur – 680308
Tel: 0480 2731311
Mob: 9847923332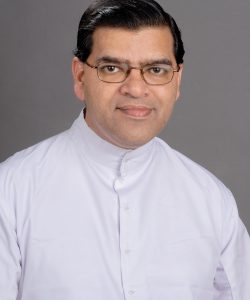 Rev. Dr. Lawrence Thaikattil
Rector