The construction of the St Alphonsa Cathedral, Mickleham, will be another milestone for the Eparchy
of St Thomas, Melbourne. Indeed, it will be a source of pride for all Syro-Malabar Catholics, particularly the migrant Syro-Malabar faithful in Australia and New Zealand. God has sent us to these countries to continue our missionary call for spreading the Good News in every corner of the world after our ancestors received our great faith from St Thomas, the Apostle.
Soon a master plan for the site development at Mickleham will be realised, and in the coming weeks a town planning application will be submitted to the Hume City Council for approval. In every sense, the design for the Cathedral will reflect most of the features and architecture of our traditional Syrian churches in Kerala, both externally and internally, that will cater to sacramental life of the faithful within the diocese.
The proposed cathedral church will be 1400 square metres in size with a seating capacity for 750 people, in order to provide for the future needs of the diocese. The master plan also includes separate proposals for construction of a chancery, bishop's residence and a multipurpose community hall that will initially become a venue for the c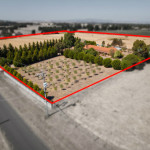 elebration of mass until construction of the cathedral is completed. Catechism classrooms and a 250 vehicle parking facility will follow to complete the project.
The Syro-Malabar faithful in the North and West regions of Melbourne have been leading this spiritual cause on behalf of our diocese, and we now seek everyone's participation in this major diocesan project. For this project to materialize, we need many intercessory prayers from everyone that God's providence and the Holy Spirit's guidance may prevail in every work we do for its construction, together with your financial support. The construction cost will be approximately $4.5 million. This is because of revisions to the church design, increasing its size to the status of a cathedral. This will better cater for future growth, whereas the original design was limited to the needs of the local community.
We invite everyone to become a part of this spiritual cause that will become a centre for imparting our great faith, which our ancestors received from St Thomas, and nurtured and preserved through many generations. Now, while we are in countries like Australia and New Zealand we are reminded to be even more vigilant and proactive in our responsibility to the present generation as we faithfully await the second coming of Jesus.