Shalom Festival 2015 in Melbourne & Sydney
2015 SHALOM FESTIVAL (Malayalam) IN AUSTRALIA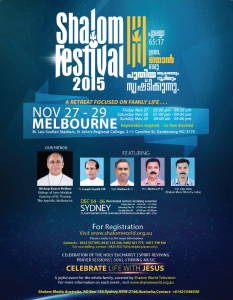 Shalom media Australia is conducting Shalom Festival (Malayalam) in the month of November and December 2015 at Sydney and Melbourne.
Rev Fr Joseph Vayalil CMI, Prof K.J Mathew, Br P.D Mathew and Shalom music ministry will be leading the Shalom Festival.
3 days retreat at Melbourne will be from 

Nov 27- 29

 at Br. Leo Scollen Stadium, St.John's Regional college,  5-11 Caroline St, Dandenong VIC 3175
and
3 days live in retreat at Sydney will be from
Dec 4- 6
Focus of the retreat will be on family life.
For more information you may please contact below;
Limited Counselling available at Melbourne, For bookings please contact : 
0423450768